Icelandic Saga Map project background: Sagasteads of Iceland
In 2011, I travelled alone around Iceland for a period of 10 months in order to read each of the 30-odd ͍slendingasögur (medieval Icelandic family sagas) in their local settings. The project ("The Sagasteads of Iceland: A 21st-century Pilgrimage") was in part inspired by the saga pilgrimages to Iceland undertaken by 19th-century Norse enthusiasts such as Sabine Baring-Gould, William Morris and William Gershom Collingwood (pictured below).
~~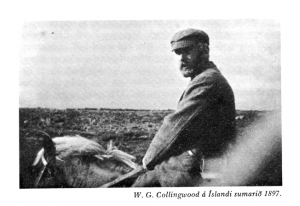 ~~
Whilst these earlier visitors travelled on horseback, I lived and worked from an ex-military Land Rover Defender ambulance that I drove over to Iceland from the UK.
~~

~~
Exploring at first hand how the events that the ͍slendingasögur describe are mapped onto and around the landscape and commemorated in place-names was a compelling approach to this remarkable body of literature. No less illuminating was witnessing for myself how modern Icelanders continue to engage with their local and national saga heritage.
~~
The blog I set up to report on my findings is still live here; a short documentary film about one outlaw saga (Gí­sla saga Súrssonar) that I made with Patrick Chadwick for Cambridge University's 'Cambridge Ideas' series can be seen here. Links to other media pieces/interviews can also be found on the blog.
***
Icelandic Saga Map project and website
I currently hold post-doctoral research position at the Miðaldastofa (Centre for Medieval Studies), Háskóli ͍slands (University of Iceland). This digital saga-map is one part of a larger research project in which I am investigating modes of literary transmission in Iceland from the medieval period to modern times.
~~
The Icelandic Saga Map is intended as a resource to guide specialists and non-specialists alike around the Íslendingasögur from a spatial perspective. On it, places named in the sagas are hyper-linked to their occurrences in the saga texts. There are also links to images of places and to other sources of information concerning them (e.g. problems with respect to their identification in modern-day Icelandic landscapes, details about archaeological excavations).
~~
I aim to add hyperlinked/geo-tagged texts of all of the ͍slendingasögur to the map. In this way, points of geographical intersection or overlap between the sagas will be clearly illustrated and the extent to which individual sagas should be considered part of a bigger saga network or whole, rather than as discrete narrative entities, will be emphasised.
~~
There will also be a 'manuscripts layer' which will illustrate the spatial provenance of medieval and post-medieval saga manuscripts (and how this correlates with the geographical distribution of their contents). Yet another layer will hyperlink extracts from published accounts by 'saga pilgrims' to the map (e.g. William Morris's 1871 and 1873 travel diaries; William Gershom Collingwood's 1899 book A Pilgrimage to the Saga-steads of Iceland. The addition of other kinds of sagas (samtíðarsögur, biskupasögur, þættir etc) will also, hopefully, be part of the future development of the site.
~~
Ultimately, the purpose of this map is to encourage and aid new readings of the sagas. As Franco Moretti writes: "Placing a literary phenomenon in its specific place — mapping it — is not the conclusion of geographical work; it's the beginning. After which begins in fact the most challenging part of the whole enterprise: one looks at the map, and thinks" (Atlas of the European Novel 1800-1900, London, New York: Verso, p. 7).
***